The Venus Retrogrades – A Mystical Moment We All Need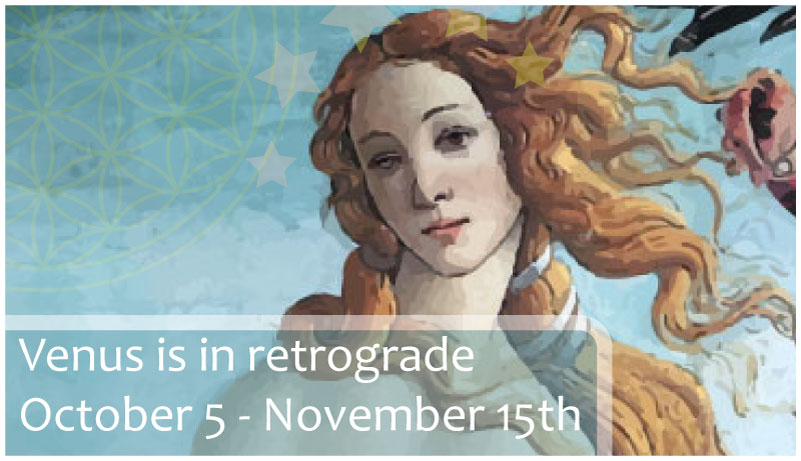 Welcome to Venus Retrograde. As of Friday October 5, 2018, we all have walked into another realm. Life might seem normal to you on the outer, but something is different and it started this past week, when Venus began to turn retrograde and radiates its light onto us all.
The Mystical Power of this planet when retrograde takes one into a new atmosphere of increased worth, love, and inner guidance. Venus guides you to do something, be something now, wants you to feel a certain way that normally you wouldn't do so easily. It's soft pleasing aura has an intelligent way to merge into your own world and have an effect upon you. Individual by individual, almost as if tuning into what is best for your healing and growth at this time, it knows what you need to experience for soul edification. Venus bypasses the mental plane of your mind, and goes straight for your heart.
The heart and emotions are open and receptive to Venus, allowing her to enter and guide you into a new attitude and even shift your normal behavior in one way or another. With this Venus in the sign of Scorpio, a secretive sort of mystical communion is occurring between your spirit and a higher divine source, building a relationship with your soul, in order to infuse you with the realities of heaven.
Pay attention to the new tendencies to look at yourself in a new light. What is it that you feel you want to experience, create, be involved in? What are you being drawn to read, watch, discuss now? How do you see yourself in life, what do you now absolutely know about YOU that makes you feel fulfilled, happy?  Is there some outer thing you have begun to do lately that seems so important at this time to have it, do it, or become it, when before, it was not that easy?  You've awakened to the influence of the Divine Beings on Venus, who are pouring their higher refined love and ways upon your house and world, motivating you to a more purer, innocence, flooding your feeling world ever so secretly, with aspirations for something more real in life.
The mind is not so calculating, analyzing and planning at this time.
Here are some ideas of Venus Retrograde in your birth chart. If you know your birth chart, ( Create Your Natal Chart for Free Here) you can find what house Scorpio is placed,  the Venus in Scorpio retrograde in there in that one unique house,  discover how you might be experiencing the subtle differences of life in that area.
If Venus retrograde lands in your 1st house, it enhances your self-image, face, hair, clothing, body, health and self motivation.
If it's in your 2nd house, enhances your money, business self-esteem, and focuses upon valuables, or what you consider of value (such as your children, your partner, your property or net worth.)
If in your 3rd house, documents, news and contracts, a communication, or decision, an ultimatum or expression of desire.
4th house is all about home, family, real estate, one of your parents, your house and security.
5th house is your heart, joy, fun, pleasure. Your vacation time, planning a party, a get-away. Becoming pregnant, caring about your children, enrolling in your own personal self-education.
If it's in your 6th house, your work and job, co-workers and projects. Focus is upon perfection, inadequate time, or quality, or shabby work and desire to have it re-done. Your nutrition and diet, yoga class, health practitioners and fasting. Your wardrobe and quality clothes. Cleaning.
Your 7th house is marriage and partnership, love. An arrangement, agreement, a negotiation and getting support. A truce.
8th house is combining talent with another. Giving someone what they desire. Listening to another's needs and supporting them, thereby receiving their affection in return, or maybe money or a gift.
9th house is expansion of consciousness, travel, foreign countries, university enrollment, teaching a class, revealing psychological conditions of other people not like you.

10th house is power, in charge, advancement with goals and accepting responsibilities, moving up, creating a blueprint, organizing affairs and making presentations, or a powerful performance

.
11th house is about increasing friendships, leading others, instigating a community action, non-profit group or inspiring courageous humanitarian action, heroic initiative for the sake of others, especially children.
12th house is sacrificing for a worthy cause, experiencing suffering in another's life and working to heal their psychological pain. Transcending a hard situation, bringing healing to something damaged.
   FOR MORE MAGICAL EXPLANATIONS OF THIS MOST INTERESTING CYCLE, WATCH ( Click ) THE VIDEO BELOW…..
Tags venus in scorpioVenus RetrogradeVenus Retrograde in Scorpio
You may also like...
SIgn Up For Our Newsletter!