Earthquake Cycle with Mars Retrograde and Global Planetary Aspects Part One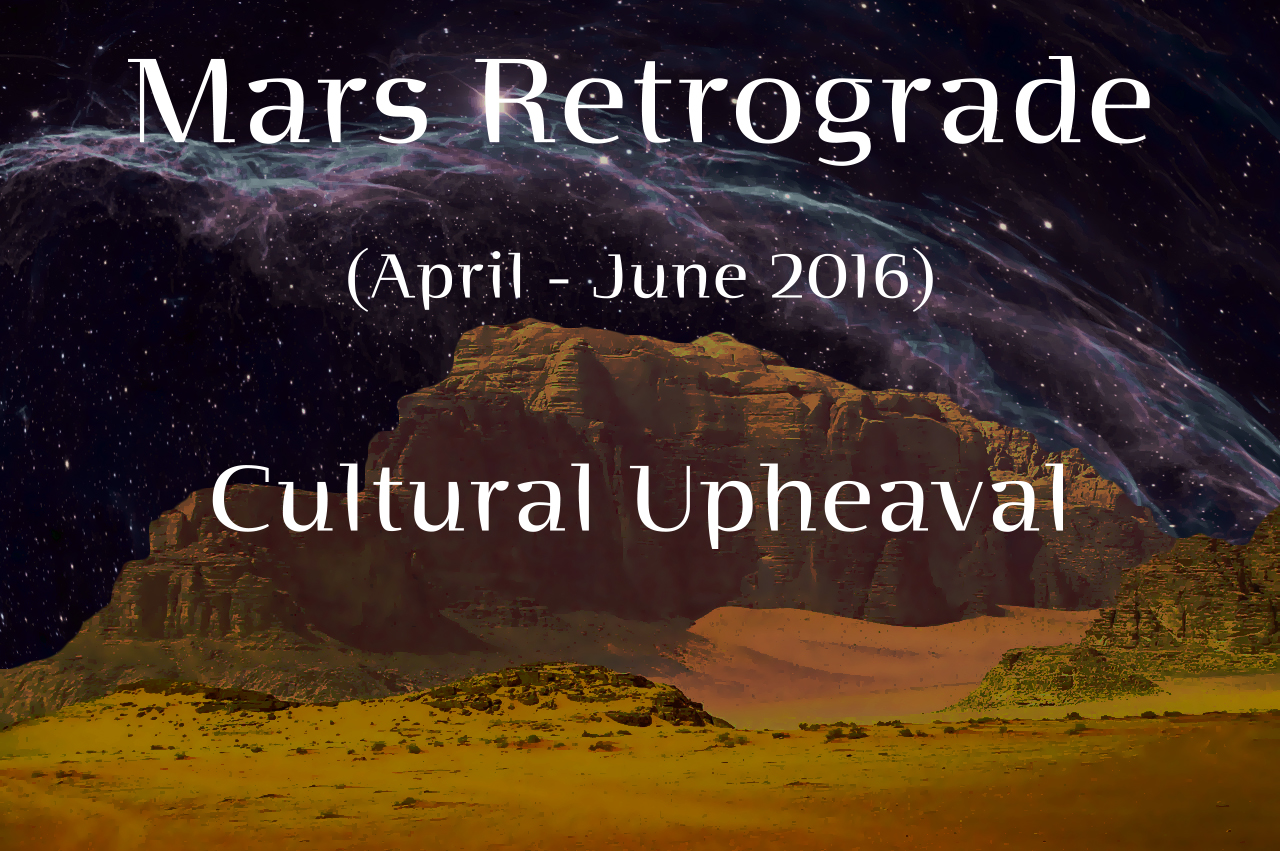 Mars Retro and the Global Cycles of Civilizations or Warning of Cataclysmic Cycle Beginning
March through August 2016
Part 1 
Planetary Trends to watch for and potential disruptive earthquake, weather and earth activity. Mars is retrograde in Sagittarius as of April 17 2016. It will remain in Sagittarius until May 28 2016 and go station direct on June 29 2016. This Mars period, has brought much tension and an escalation of physical challenges, sickness, flu, colds and as we uncover in Part Two, it is as if an attack upon a culture of people of some kind has been occurring. It is remarkable how far and wide the illnesses have spread. As aggressively as it has hit us, we need to match it with aggressive remedies of your choice. Below are some planetary aspects to consider and some potential earthquake warnings. The Mars turning retrograde could be a symbol of an aggressive earth challenge to certain regions on the earth. For more earthquake understanding, I like this channel below:   PLANETARY POSITIONS APRIL-MAY 2016 April 25-28 Neptune in Pisces opposes Jupiter in Virgo in square to Moon. Mars and Saturn in Sagittarius in a tight conjunction.
In addition to potential major earthquakes escalating in a major way during this time, this cycle is very dangerous for military confrontations, political posturing and poorly worded public exposures of certain public issues that could be a strange mystery. Also, this configuration creates a theme, some sort of challenge we have to overcome with a negative mood or bad attitude about something that might have been building up. It could have been a long term issue that has been triggered. It would take some form of resentment, injustice, or attitude of anger or desire even to retaliate, since these are Sagittarius issues.  This is because of a situation that may have occurred recently or in the past, that we are having a difficult time seeing straight and clear because we are reacting emotionally to the disappointment. The way out of this aspect's influence is to get real and face certain realities with ourselves and face some confusing facts about the other person or the situation. Try to be honest with this problem, because it will attempt to manipulate your mind to make a big deal out of a partial truth, benefiting your own position. Neptune and Jupiter involved in an opposition says that there are situations you are dealing with that might be very deceptive, and either both parties are at some fault, or the one that has been caught red handed attempting to deceive and avoid accountability with what they did, is absolutely not worth your time pressing accountability upon them. This aspect could then be also a trap to entangle us back into an injustice, we desire straightened out and it is just not worth getting re-entangled back into a situation that might then take a very long time and much suffering to get out of.
April 28 2016 
Mercury Retrograde ~ Please go to

this link

to read all about the new Mercury Retrograde occurring now.
Moon in Pisces conjoins Neptune and oppose Jupiter in Virgo. Be on guard for another earthquake period May 2,3,4th. Also, all indulgence with medications, alcohol, drug use are seriously not a good idea during this period. Extreme emotional triggers based upon deep frustrations that something or other was not completed or accomplished according to your ideal dream or someone else' ideal dream, so watch for altercations. Be careful with your health, boost your immune system, don't eat questionable foods, and caution over drinking bad water, or mountain streams…purify EVERYTHING. Politically, confrontations and confusion on water, naval, underwater. Military confrontations could end in many losses.
May 5-6 Moon, Sun and Venus all conjoined in Taurus inconjunct Mars in Sagittarius, and trine Pluto in Capricorn.  
Part of this cycle has earthquake planetary disruption potential. Shifts, earth adjustments, are part of the inconjunct from Mars. The other part of this, is a nice exquisitely beautiful few days of prosperity, manifestation of dreams, pleasant communications, social get together and time spent with loved ones, and the power funneled by Pluto into these activities as if there is a strong urge for people to express to others, how they truly feel about another.  Physical building, projects, constructions, creations, business progress, graphics media, music, website work, physical fitness, dance, competitions, should all be very productive now. Economic adjustments are highlighted now, as is personal financial adjustments in new plans and desires to be practical, frugal and engage in constructive business activities.
May 6-7 New Moon-Sun 15, 16* Taurus, Moon 15-29 Taurus Super Moon swelling the tides and increasing earthquake tension, Mercury 22-20* Retrograde in Taurus, inconjunct Saturn at 15,14* Sagittarius.
Earth shifts, possible. With Saturn, it is like zig zag separation energy earth and for us personally.
May 7-10 Sun 16,17,18, 19* in Taurus, conjoin Mercury in Taurus, trine Pluto in Capricorn trine Jupiter in Virgo, and inconjunct Saturn at 15-14* Sagittarius. 
This increases pragmatic, functional cut through activities, getting things done in the physical,  No dreamy planning or what if I could do this or that kind of fantasy, as this is a time for capturing the inspiration and putting into action.
May 13-14  Mercury conjoins Venus in Taurus bringing grace and diplomacy in all your conversations, meetings, outings and planning. Inspired to create music, beauty, good fortune for anything related to money, employment and interviews. 
Engineering projects, mathematics are constructive now. This configuration is still inconjunct Saturn which lends to a bit of a frustrating situation requiring an adjustment in some way.  In Global or Political posturing and meetings, one person representing a nation or specific group is not paying any attention to a protocol. Violating all common sense, good judgment and international expectations, everyone has to stop and handle this situation.
May 14    Moon conjoins Jupiter in Virgo and opposes Neptune and square Saturn. Earthquake aspect  
Critical preoccupation with having everything perfect, and expecting others to do the same. The opposition usually creates a tension of noticing irritating things around you that must get fixed. You also could be on the receiving end of being critiqued.
May 9-June 5   Jupiter in Virgo stationary oppose Neptune in Pisces, square to Mars retrograde in Sagittarius.  Extended period of time, creating unusual tension and possible earth changes, especially involving oceans, flooding, water.  
Along with earth tension causing water, floods, liquification problems and earthquake potentials, and heightened tsunami action, this is a long cycle carrying significant problems.  My advise, stay out of tangled gossipy confrontations, and attempting to challenge those who have behaved unethically, as if you are some kind of super Space Justice Cop sent to reign in all the sociopaths getting away murder.  So one of the major themes of May, is a struggle between ultra focus upon detailed perfection, editing life, projects, personal self image, behavior, and psychology. The strain of Saturn that holds us to task, and thoroughly demands concentration upon these facts that brings all things into alignment within our work, projects health, diet or self.  It can be slightly excruciating as we are compelled to meticulously concentrate upon bringing something worthwhile into physical reality, perfectly. The square to the Neptune is the element of battling an old psychological mess, an old hidden delusion or magical thinking along with expectations that somehow it shouldn't be this hard, if only this or that wouldn't have happened and so on, things would be different now. We are going to be forced to make peace with disappointments, and broken people and broken ideals, shattered dreams and much suffering, because no one person or thing down here is perfect. All we have to do is move forward with new maturity which is Saturn's job now. We are being re-trained to see life and self in a new light, incorporating new Jupiter in Virgo routines and habits into our daily functions in every way, so we never resort back to the old Neptunium distortions and suffering again. You can go back if you like to the old projects, people, family or friends now, but with a stronger realism that can love and give without being caught up in crashed dreams and disappointing people. We are all learning to look at the power and the weaknesses of things and people. It will be time to face the Saturnian truth that if we don't want to be subjected to sorrow and disappointment, we should look at the truth before we entangle ourselves in that situation so much. For situations where we can't choose to get away from family because we are committed, or especially when were children, this cycle simply advises us to develop a more present and awakened state about things that are not perfect rather than suppress them and go into denial.  Globally, this aspect all May is going to challenge the governments, and all culturally influential places and individuals with exactly the same lessons. It will be a  challenge to face realities, let go of magical thinking and unrealistic expectations from others' cultures, economic capacity, beliefs or religions, and face things squarely.  It is the time of beginning new protocol and disciplines, putting strong realistic boundaries and structures in place that assist culture and regions to progress with new routines, new paradigms of self accountability and self sufficiency somehow.
May 16-19  Mars in Sagittarius oppose Sun and Venus Earth changes potential.  Confrontational, aggressive, argumentative period. Dealing with opposing beliefs, desires, positions. Not the best time to travel, have meetings or try to reach peaceful resolutions. Social protests, riots and confrontations with aggressive types can occur.
May 20-21   Moon in Scorpio oppose Sun 29* Taurus to 0* Gemini, and Venus at 24, 25* Taurus.   Earthquake tension  
Tension builds up between governments, economic crisis builds and rash decisions with policies could be made to band-aid the problems. Flinging accusations and brash reckless words back and forth, in all forms. Stay out of arguments, altercations, becoming triggered, feeling the need to defend yourself.  Globally, news of another foreign accident, not the best time to fly. Earthquake period is building
May 21-22   Moon, Mars in Sagittarius opposes Venus, Sun in Gemini possible earthquake tension.
  Feelings are vulnerable now, as the need to be understood in conflict with the lack of empathy in key people  who are not as sensitive to understand you.
May 25 Venus opposes Mars   
Tension between masculine and feminine. Not the best time to ask for support from people you care about. Another earth tension period.
June 5  Moon conjoin Venus and Sun oppose Saturn in Sagittarius.  
This is a time of confrontation of financial violations, sexual trauma and violations, boundaries violations, variations of abuse, violations of trust, moral challenges, habits and addictions among certain situations. Obviously not everyone is going to be dealing with these forms of challenges. It can be a time also of regions on the earth experiencing great tension on the earth as everything is shifting. Partnership challenges, opposing perspectives.
Tags astrology eventsastrology predictionscataclysmicearth changesearthquake predictionsearthquakeshoroscopesMars in Sagittariusmars retrogradeMercury retrogradeplanet shiftsSagittariussaturn in sagittariusStarfiresstarfires in livingstonweather
You may also like...
SIgn Up For Our Newsletter!