My Joy and Creation – The Fifth House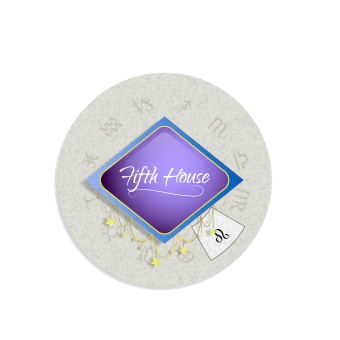 Our fifth house is one of joy and where we find our quality of life. Here is where we find pleasure, fun, indulging and ecstasy. It is a warm beautiful sandy beach, with a drink of choice, palm trees, beautiful aqua blue water and lovely conversation and companionship.
It is a trip to DisneyLand, or an exciting period of inspiration to give birth to an art project, chef school, or a baby. It is sweet and magnificent, joyous and loving. The 5th house is where we enjoy life and the process of creating things.
Our confidence comes from the Sun, Leo and the 5th house. Yes, it is a Leo house and is ruled by the Sun. It is bright, expansive, confident and courageous. As you can see, it is similar to the energy of Leo.  What happens in this house is everything that brings us excitement, love, romance, fun, expansive special experiences which provide joy and pleasure to our hearts and souls.
it is where we find the director of our life script. It is the house of managers, administrators, club leaders and wedding planners. It is the place where we see if someone loves to perform, be in front of others. If Capricorn is on the 5th house, which is a responsible reserved sign, so this person would have some reservations deep inside with their ability to push themselves out there and claim their right to live their dream you see. They could be cautious and overly sensitive when entering a love relationship, or not want to have a risk in love at all! However, because Saturn is the planet that is always connected to Capricorn, we have to see where Saturn is in this person's chart, and what it is doing. Let's say, Saturn is in Leo, that would put their Saturn in the 12th house of past lives needs and unfinished business carried over from another life, in Leo, again performance, passion, self confidence and being a star…it's sitting there focusing the conservative serious Capricorn influence with the person's performance and joy area, acting out through the 12th house of subconscious unresolved needs to be looked at, noticed and being a star. The person could have deep powerful urges to take risks, and push themselves out into the world to show what they have for support and love, but with a responsible structured sort of manner, work, projects…glamour would be this person's past life memory ( leo) and possibly fame. But Saturn in the 12th means it was unhappy, unfulfilling, or misused somehow, and now was there someone who sabotaged this persons' self confidence and fun, freedom to make their life the way they wanted it?
/
It is the area of our children or loving to make children happy. It is our inner child. Teachers can live in the 5th house, especially for young children.  Musical performance, the arts, theater and film is here, because of the big picture displayed as to how one wants to direct their lives expression in order to truly LIVE IT.
Gambling, investing, gold, taking risks are the 5th house. It rules the Heart Chakra, the love and is Pink/Rose/Ruby or Orange/Gold. It is ruled by the Sun. Gregarious, loving, generous and confidence sits in here, but mainly the urge to CREATE.
You may also like...
SIgn Up For Our Newsletter!